Tickets can be purchase from the Tickets page from 6pm Friday 29th October 2021.
Event Date: Saturday 13th and Sunday 14th November 2021.
Event Location: Club Macquarie, 458 Lake Road, Argenton. Main Auditorium.
Entry cost: TBA. Tickets will be on sale only via this website. Tickets will go on sale as of 6pm Friday 29th October 2021 and will be limited in number.
NO TICKETS SOLD AT THE DOOR!
Due to Covid-19 club regulations, attendance will only be limited per session. Tickets bought for one session will not be transferable to another. Sorry no refunds.
Session Times:
Saturday: TBA
Sunday: TBA
Games Layout: Due to social distancing rules, we may not be able to fit in as many pinballs as possible. Games will be spaced to comply with distancing rules at the time of the event.
Player Conduct: People caught playing excessively rough will be asked to leave the event with no refund. People constantly playing the same machine or playing 4 player games by themselves while other people are waiting to have a turn of the game will be cautioned and moved on. Repeat offenders will be asked to leave the event with no refund.
Disclaimer: If for reasons beyond our control (ie covid outbreak), and the event is cancelled, all tickets will be refunded.
Entry to the club will be dependent on the club rules following advice from NSW health and entry may be denied to persons from a designated hotspot classified by them.
Tournaments and Competitions: There will be no pinball Tournaments at Pinfest in the foreseeable future.
T-Shirts: T-Shirts will be available for purchase during the event.
Contributors: As always, we will make welcome anyone who is interested in contributing a game to the event. Please contact us via a private message on our facebook page at least 2 months prior to the event.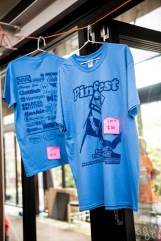 The Pinballs: The machines on show are owned by private collectors and are on loan for the event, so please treat them with the utmost respect. People caught playing excessively rough will be asked to leave the event with no refund.
This is not a sale or auction, however, some machines may be on private sale and will have for sale information on them. Any sale of a machine is done so as a private sale and does not contribute to the charity of the event. Newcastle Pinball Association and Club Macquarie are not responsible in any way for any purchases of pinball machines that happen at or as a result of Pinfest.